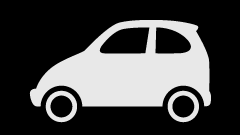 2011 Crown Vic
2011 Ford Crown Victoria • Gas V8 Sedan
Property of Comedian · Added May 2011, Retired May 2011
Location: United States
White 2011 Crown Vic I had as a rental car for a few days. Since these are fleet only cars nowadays, I thought I'd add my experiences putting several hundred miles on one of these.

I retired it from fuelly since I only had it for a few days. Was virtually new when I picked it up, it had just under 2,000 miles on the odometer.
Basic Stats
18.8 (-0.5)

avg MPG

18.5 (-0.9)

last MPG

19.3 (5/3/11)

best MPG
$0.00 Avg. Price/Gallon
$0.00 Avg. Price/Fuel-up
$0.000 Avg. Price/Mile
$0.00 Total Spent
Cost Analysis 2013
Recent Fuel-ups
Log Book
#
Date
Miles
Gal.
MPG
Price
City %
Notes
Odometer
Fuel-up TS
Added TS
Loading fuel log from server, just a second...
EPA Estimates
Here's how this mileage compares with the EPA estimates for this model.
18.8

Avg MPG

16 (+2.8)

Estimated City MPG

24 (-5.2)

Estimated Hwy MPG

19 (-0.2)

Estimated Avg MPG
Potential Savings Per Fuel-up
Using the last fuel-up as a guide, here's what this vehicle could have saved with better mileage.
18.5

Last MPG

$2.32 11.4 Extra Miles

+1 MPG

$4.41 22.8 Extra Miles

+2 MPG

$6.31 34.2 Extra Miles

+3 MPG
Browse Similar Cars