wish i'd known you guys were looking for vx rims.
i had a set on my old accord. sold the accord with its stock steelies in the summer, but kept the vx rims to try to sell on one of the honda boards.
nobody wanted them. i ended up letting them go about a month ago for $160 CDN (about $135 US).
i really wanted to put them on my firefly, but the bolt pattern was different.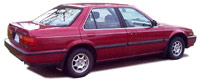 __________________