Cruze Eco Manual
2013 Chevrolet Cruze Eco
1.4L L4 GAS Manual 6 Speed Sedan
Property of BowtieGuy1989 Added Apr 2013 Location: Columbus, OH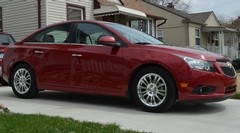 2013 Cruze Eco Manual. Took delivery 4/22/2013 with 5 miles.
-Crystal Red Tintcoat
-Driver's Convenience Package
-Pioneer 9 speaker sound system
-Fog lights
-Front and rear molded splash guards
-OEM Chrome Strip Door Handle Package
City/Highway percentages are calculated using the following EPA based formula each tank:
Percentage of Highway Driving = 100*[(AVG SPD - 21)/(48 - 21)]
Percentage of City Driving = 100*[1-(Calculated HWY%)].
Basic Stats
$2.85 Avg Price/Gallons
$26.18 Avg Price/Fuel-up
$0.073 Avg Price/Mile
$7,119.95 Total Spent
---
Recent Fuel-ups
Log Book
| | # | Date | Miles | Gallons | MPG | Price | City % | Note |
| --- | --- | --- | --- | --- | --- | --- | --- | --- |
| | 272 | 6/7/22 | 299.00 | 10.730 | 27.87 | 5.289 | 100% | |
| | 271 | 3/13/22 | 277.00 | 8.747 | 31.67 | 3.660 | 95% | |
| | 270 | 10/20/20 | 260.00 | 7.096 | 36.64 | 2.459 | 45% | |
| | 269 | 6/18/20 | 290.00 | 7.698 | 37.67 | 2.469 | 40% | |
| | 268 | 3/12/20 | 239.00 | 6.913 | 34.57 | 2.459 | 30% | |
| | 267 | 3/5/20 | 311.00 | 8.934 | 34.81 | 1.910 | 35% | |
| | 266 | 2/25/20 | 325.00 | 9.693 | 33.53 | 2.149 | 55% | |
| | 265 | 2/10/20 | 362.00 | 10.498 | 34.48 | 2.229 | 45% | |
| | 264 | 1/28/20 | 282.00 | 8.452 | 33.36 | 2.349 | 40% | |
| | 263 | 1/17/20 | 326.00 | 9.628 | 33.86 | 2.359 | 45% | |