"One Piece at a Time"
2002 Ford F-250 Super Duty
DIESEL V8
Property of Freedombyforce Added Jan 2012 Location: North Louisiana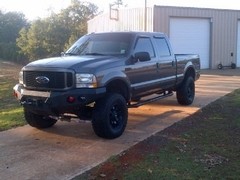 2002 F250 4x4. 7.3 Diesel 6 speed Manual with 4" lift and 35" Procomp Extreme AT's. Mods include: Intake, 5" Straight Pipe exhaust, PHP 6 pos chip, Chip stays on 100 hp Performance, Wicked Wheel, EBPV Delete, International Up Pipes.
Basic Stats
$3.93 Avg Price/Gallons
$120.48 Avg Price/Fuel-up
$0.277 Avg Price/Mile
$1,204.82 Total Spent
---
Recent Fuel-ups
Log Book
| | # | Date | Miles | Gallons | MPG | Price | Note |
| --- | --- | --- | --- | --- | --- | --- | --- |
| | 10 | 4/28/12 | 616.10 | 39.200 | 15.72 | 3.958 | |
| | 9 | 3/19/12 | 226.90 | 14.562 | 15.58 | 3.899 | |
| | 8 | 3/15/12 | 585.00 | 39.582 | 14.78 | 3.899 | |
| | 7 | 3/10/12 | 733.00 | 49.750 | 14.73 | 4.099 | |
| | 6 | 3/2/12 | 714.00 | 46.606 | 15.32 | 4.029 | |
| | 5 | 2/23/12 | 227.00 | 14.569 | 15.58 | 3.899 | |
| | 4 | 2/21/12 | 486.00 | 48.977 | 9.92 | 3.839 | |
| | 3 | 2/15/12 | 365.00 | 24.819 | 14.71 | 3.999 | |
| | 2 | 2/10/12 | 273.00 | 17.512 | 15.59 | 3.809 | |
| | 1 | 2/7/12 | | 9.345 | | 3.860 | |