Focus
2002 Ford Focus
GAS L4
Property of ChrisCrafty Added Mar 2010 Location: Dallas, TX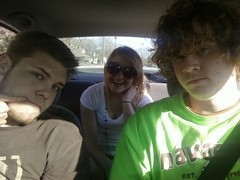 Chris Craft's 2002 Ford Focus ZTS Sedan. The second installment in a series of Foci owned by the Crafty one.
This focus is well equipped. It sports a 16V 2.0L DOHC Ford Zetec engine with a four speed automatic transmission. Power windows, power locks, fog lamps, tachometer, and five passenger seating make this a truly wonderful adventure car for this young Hachian. ;)
Sadly, the Focus was retired in 2010 because, well, it sucked.
Basic Stats
$2.67 Avg Price/Gallons
$25.51 Avg Price/Fuel-up
$0.146 Avg Price/Mile
$688.83 Total Spent
27
averaging 11 per month
Total Fuel-ups
---
Recent Fuel-ups
Log Book
| | # | Date | Miles | Gallons | MPG | Price | City % | Note |
| --- | --- | --- | --- | --- | --- | --- | --- | --- |
| | 27 | 6/7/10 | 211.00 | 11.379 | 18.54 | 2.549 | | |
| | 26 | 6/5/10 | 179.00 | 11.204 | 15.98 | 2.559 | | |
| | 25 | 6/3/10 | 135.00 | 10.000 | 13.50 | 2.569 | | |
| | 24 | 6/1/10 | 175.00 | 10.482 | 16.70 | 2.570 | | |
| | 23 | 5/29/10 | 191.00 | 11.644 | 16.40 | 2.579 | | |
| | 22 | 5/22/10 | 179.00 | 11.843 | 15.11 | 2.699 | | |
| | 21 | 5/20/10 | 208.00 | 11.403 | 18.24 | 2.699 | | |
| | 20 | 5/16/10 | 215.00 | 10.446 | 20.58 | 2.699 | | |
| | 19 | 5/14/10 | 191.00 | 11.554 | 16.53 | 2.739 | | |
| | 18 | 5/9/10 | 120.00 | 5.812 | 20.65 | 2.749 | | |