Lil' Red Car
1990 Geo Prizm
GAS L4
Property of goldgift Added Jun 2011 Location: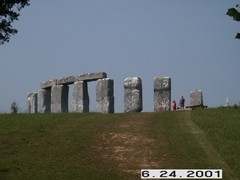 1990 GEO Prizm GSI red hatchback 5sp manual. 21+ years new and only 99,351 miles. Garage kept.
GSI is an entirely different car than the LSI. It shares the same body style but includes "the nice package" = sunroof, electric windows/doors, suspension package, 4A-GE Red Top engine = 134 HP, high revving (5500+ with no strain (likes high RPM's = don't look for power band below 3000)). The most sticky car I've driven before we got a VW Jetta (diesel). Everything factory except radio/cassette replaced w/HD radio/CD/USB, 4 new speakers, and regular maintenance. Wee bit of rust at one corner of sunroof and driver's side rear wheel well. Absolutely amazing mileage (MPG) of 30 - 45+. No less than 30MPG and have seen 45+ on the open highway with a kick-ass tank of fuel.
Took possession Dec 1989 - the year of the "stuck accelator problem". Never saw. Amazing car in terms of: superb styling, fun to drive, fuel economy, cargo space, reliability, longevity. Mentally monitored the fuel economy throughout its life. The first tank listed here is wifey driving/w/AC. Still cools (w. didn't complain) after 20+ years.
Feels a bit dated now but it is still my first choice to "take out". Nice when your secondary vehicle (MPGwise after VW diesel) still gets you 30+, fun (fun, fun, fun++++) and no payments for manyyyyyyyyyy years.
Picture coming when I can find it or take it.
Basic Stats
$3.15 Avg Price/Gallons
$17.54 Avg Price/Fuel-up
$0.091 Avg Price/Mile
$1,543.72 Total Spent
---
Recent Fuel-ups
Log Book
| | # | Date | Miles | Gallons | MPG | Price | City % | Note |
| --- | --- | --- | --- | --- | --- | --- | --- | --- |
| | 89 | 6/11/21 | 264.60 | 6.181 | 42.81 | 3.559 | 15% | |
| | 88 | 6/4/21 | 104.50 | 3.604 | 29.00 | 3.579 | 95% | |
| | 87 | 5/11/21 | 131.90 | 3.427 | 38.49 | 3.399 | 20% | |
| | 86 | 4/29/21 | 169.50 | 4.652 | 36.44 | 3.369 | 40% | |
| | 85 | 4/3/21 | 63.10 | 2.817 | 22.40 | 3.139 | 100% | |
| | 84 | 3/2/21 | 136.80 | 7.605 | 17.99 | 3.259 | 100% | |
| | 83 | 12/16/20 | 169.70 | 6.824 | 24.87 | 2.999 | 100% | |
| | 82 | 9/21/20 | 219.10 | 8.516 | 25.73 | 2.659 | 100% | |
| | 81 | 6/18/20 | 187.00 | 6.357 | 29.42 | 2.099 | 100% | |
| | 80 | 4/13/20 | 165.30 | 5.951 | 27.78 | 1.859 | 100% | |