2013 Honda Civic LX
2013 Honda Civic
GAS L4
Property of Riamus Added Dec 2012 Location: North Carolina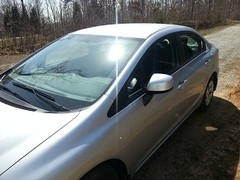 Normal everyday driving is at 45-55mph for 95% of the drive and is on mostly flat roads. Most other driving is at highway speeds.
The car is stock with cruise control and I use only regular gas (not E-85, Plus, or Premium). I perform all routine maintenance at recommended times and typically drive with the Econ button activated.
EDIT: After comparing the mileage with and without ECON mode activated, I've decided to leave it turned off. I get the same or better mileage with it off and I have power that I don't have if it's turned on. Anyone wanting to see the different comparisons can view the notes as I've commented on whether or not it was on or off for each time and you can see what it looks like.
Basic Stats
$3.38 Avg Price/Gallons
$33.08 Avg Price/Fuel-up
$0.089 Avg Price/Mile
$1,289.96 Total Spent
---
Recent Fuel-ups
Log Book
| | # | Date | Miles | Gallons | MPG | Price | Note |
| --- | --- | --- | --- | --- | --- | --- | --- |
| | 39 | 11/14/13 | 358.00 | 9.740 | 36.76 | 3.189 | |
| | 38 | 11/9/13 | 358.00 | 9.160 | 39.08 | 2.899 | |
| | 37 | 11/7/13 | 326.00 | 8.790 | 37.09 | 3.219 | |
| | 36 | 11/1/13 | 365.00 | 9.940 | 36.72 | 3.279 | |
| | 35 | 10/18/13 | 424.00 | 10.820 | 39.19 | 3.359 | |
| | 34 | 10/13/13 | 328.00 | 8.020 | 40.90 | 3.069 | |
| | 33 | 10/3/13 | 398.00 | 10.890 | 36.55 | 3.339 | |
| | 32 | 9/20/13 | 409.00 | 10.160 | 40.26 | 3.479 | |
| | 31 | 9/15/13 | 365.00 | 8.930 | 40.87 | 3.069 | |
| | 30 | 9/12/13 | 399.00 | 10.650 | 37.46 | 3.499 | |