Blue Insight LX
2011 Honda Insight
Property of davidcrongey Added May 2011 Location: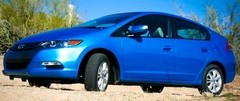 First Oil Change (at 5% Life) June - 9900 miles
This is my new Blue Insight bought in March 2011. The first 5150 miles while we were breaking in the engine, the car drove at an avg mpg of 52.1 with mostly highway miles (about 65%)!
My wife drives more city miles than i do! My wife drives 60% city for 32 miles each way. I drive about 35% city for 37 miles each way.
We both share the vehicle as far as who is driving further each day. I drive wednesdays and Weekends and she drives Mon, Tues, Thurs, Fri.
During the summers we drive less and she drives it more of the time than i do.
We estimate we put about 700 miles a week on the car with 40% city and 60% highway!
I drive in Florida with A/C on at least half of the time, my wife all of the time. At speeds under 40 I almost always have the A/C off and the windows opena bit. The summer is going to change that of course!
In highway driving i try to keep the speed at 51-53 mph to achieve highest mpg.
In other driving in a 40 mph zone and i drive at 36 - 38 mph and coast into the lights attempting to watch two lights ahead.
I drive some in 30-35 mph zone which 31-33 is best speed i had seen and try gentle foot on pedal and try to keep right at 33.
On the streets late at night i have realized a can reach 100mpg in some 15 mph zone which if i drive at constant speed at 11-12 sometimes the vehicle runs all electric for a couple blocks where i turn for my street. This only works when car is warm.
I back into the driveway so in the morning i can pull right out and not have shift the gears on a cold car.
I LOVE this INSIGHT and we plan to buy a 2012 EX for my wife with NAVIGATION.
Purchasing the car we used the Capital One Auto Buying price service and then had an out of network dealer match the quote: about $1,700 under MSRP! We had the dealer search for better financing than we were offered by capital One and seleced a local bank!
Basic Stats
$3.84 Avg Price/Gallons
$29.88 Avg Price/Fuel-up
$0.077 Avg Price/Mile
$1,015.99 Total Spent
---
Recent Fuel-ups
Log Book
| | # | Date | Miles | Gallons | MPG | Price | City % | Note |
| --- | --- | --- | --- | --- | --- | --- | --- | --- |
| | 34 | 9/3/11 | 260.00 | 5.633 | 46.16 | 3.709 | 20% | |
| | 33 | 9/1/11 | 370.00 | 8.000 | 46.25 | 3.799 | 15% | |
| | 32 | 8/27/11 | 391.00 | 8.321 | 46.99 | 3.719 | 25% | |
| | 31 | 8/23/11 | 354.00 | 8.000 | 44.25 | 3.899 | 20% | |
| | 30 | 8/20/11 | 420.00 | 8.319 | 50.49 | 3.739 | 20% | |
| | 29 | 8/16/11 | 416.00 | 8.737 | 47.61 | 3.839 | 20% | |
| | 28 | 8/12/11 | 397.00 | 8.523 | 46.58 | 3.789 | 90% | |
| | 27 | 8/6/11 | 348.00 | 7.578 | 45.92 | 3.769 | 20% | |
| | 26 | 8/2/11 | 425.00 | 8.438 | 50.37 | 3.939 | 20% | |
| | 25 | 7/31/11 | 383.00 | 8.028 | 47.71 | 3.809 | 20% | |