BRG S, 6 Spd. Manual.
2004 Mini Cooper S
Property of DV8N Added Oct 2011 Location: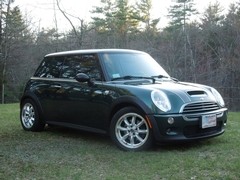 Fun commuter car, retired for bigger family car with better gas mileage.
The bulk of mileage was accumulated 4 days/ week 90% highway (100 miles/ day) and 1 day 45 mph back roads with few stops (55 miles/ day).
This car fell quite short of the EPA 34 Hwy that was predicted in '04. The lower speed back road commute would return better numbers than keeping up with traffic on the highway. This is similar to my Dodge truck, but opposite to the Saab 9-2x and Honda Accord, which return better numbers on the highway. I would guess the Mini has more aerodynamic drag and can take better advantage of a 5th gear perfect for 45 mph cruising.
After owning many cars that would exceed or at least meet EPA ratings, this one was a disappointment.
Basic Stats
$3.76 Avg Price/Gallons
$45.16 Avg Price/Fuel-up
$0.129 Avg Price/Mile
$1,083.88 Total Spent
---
Recent Fuel-ups
Log Book
| | # | Date | Miles | Gallons | MPG | Price | City % | Note |
| --- | --- | --- | --- | --- | --- | --- | --- | --- |
| | 24 | 4/9/12 | 356.50 | 12.736 | 27.99 | 4.099 | 20% | |
| | 23 | 4/3/12 | 316.80 | 11.266 | 28.12 | 3.919 | 50% | |
| | 22 | 3/30/12 | 324.10 | 11.892 | 27.25 | 4.049 | 50% | |
| | 21 | 3/26/12 | 355.50 | 12.390 | 28.69 | 4.099 | 15% | |
| | 20 | 3/22/12 | 360.90 | 12.232 | 29.50 | 3.939 | 30% | |
| | 19 | 3/18/12 | 355.20 | 12.191 | 29.14 | 3.939 | 25% | |
| | 18 | 3/13/12 | 318.80 | 10.537 | 30.26 | 4.019 | 40% | |
| | 17 | 3/9/12 | 335.00 | 11.700 | 28.63 | 3.899 | 30% | |
| | 16 | 2/27/12 | 384.40 | 13.058 | 29.44 | 3.859 | 20% | |
| | 15 | 2/21/12 | 352.00 | 11.835 | 29.74 | 3.899 | 20% | |