SIL 2.5i, 5 Spd. Manual
2005 Saab 9-2X
GAS H4
Property of DV8N Added Oct 2011 Location: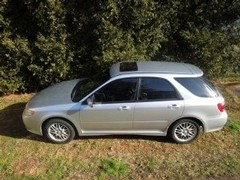 New England all conditions commuter car. (shown with Subaru wheels and snows)
For time tracked: Typical 70% Sub Highway (40-50mph few stops).
See Also: Saabaru, Subaru Impreza wagon.
I owned this car for 6 years and just under 150,000 miles. The only non-maintenance out/ of warranty repair was for oil leaking at head gaskets and a rusted oil pan at 165k. The need for a bigger car made me sell this one with 180k and no mechanical issues. It was a great little car.
Basic Stats
$3.57 Avg Price/Gallons
$47.66 Avg Price/Fuel-up
$0.126 Avg Price/Mile
$2,192.50 Total Spent
---
Recent Fuel-ups
Log Book
| | # | Date | Miles | Gallons | MPG | Price | City % | Note |
| --- | --- | --- | --- | --- | --- | --- | --- | --- |
| | 46 | 12/9/12 | 351.50 | 13.162 | 26.71 | 3.339 | 40% | |
| | 45 | 11/29/12 | 334.30 | 12.362 | 27.04 | 3.499 | 20% | |
| | 44 | 11/12/12 | 402.60 | 14.227 | 28.30 | 3.579 | 20% | |
| | 43 | 11/2/12 | 415.80 | 14.267 | 29.14 | 3.539 | 20% | |
| | 42 | 10/12/12 | 369.50 | 13.090 | 28.23 | 3.879 | 20% | |
| | 41 | 10/8/12 | 363.80 | 12.591 | 28.89 | 3.879 | 20% | |
| | 40 | 9/24/12 | 412.80 | 13.886 | 29.73 | 3.839 | 20% | |
| | 39 | 9/18/12 | 422.50 | 15.583 | 27.11 | 3.595 | 20% | |
| | | 9/12/12 | | | | | | |
| | 38 | 9/12/12 | 382.00 | 13.107 | 29.14 | 3.879 | 20% | |