Black Beast
1997 Subaru Legacy
GAS H4
Property of Ducksnake Added Dec 2011 Location: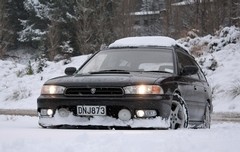 1998 GTB Limited, Wagon, Manual, 2.0L Turbo - V3 STi conversion.
Run on 95 RON, due to lack of 98 in Queesntown.
Engine: Forged and blueprinted build, using a closed deck 2L block, and aftermarket pistons and rods. Using GTB heads, V4 STi cams, intake, ignition, and V3 STi ECU. Single turbo, with a VF39, run at 18 psi daily.
Suspension: Version 8 STi KYB shocks, V4 sti alloy control arms, V3 sti steering rack+shifter, Cusco underbody K brace, 22mm sway bars front and rear, Bridgestone RE-11 tyres. All parts JDM.
Basic Stats
NZ$8.59 Avg Price/Gallons
NZ$101.09 Avg Price/Fuel-up
NZ$0.50 Avg Price/Mile
NZ$4,953.41 Total Spent
---
Recent Fuel-ups
Log Book
| | # | Date | Miles | Gallons | MPG | Price | City % | Note |
| --- | --- | --- | --- | --- | --- | --- | --- | --- |
| | 49 | 1/20/14 | 231.40 | 12.725 | 18.18 | 8.892 | 15% | |
| | 48 | 1/19/14 | 302.80 | 15.148 | 19.99 | 8.513 | 5% | |
| | 47 | 1/17/14 | 332.70 | 15.755 | 21.12 | 9.233 | | |
| | 46 | 1/14/14 | 193.90 | 13.969 | 13.88 | 8.854 | 10% | |
| | 45 | 11/17/13 | 192.60 | 13.512 | 14.26 | 8.589 | 50% | |
| | 44 | 9/25/13 | 241.10 | 13.172 | 18.30 | 8.778 | 10% | |
| | 43 | 9/21/13 | 223.50 | 13.238 | 16.88 | 8.741 | 10% | |
| | 42 | 9/11/13 | 285.10 | 16.553 | 17.23 | 8.930 | 40% | |
| | 41 | 9/6/13 | 94.80 | 5.532 | 17.14 | 9.043 | | |
| | 40 | 9/5/13 | 60.30 | 4.264 | 14.14 | 9.081 | 80% | |