Charcoal Aygo
2012 Toyota Aygo 1.0 5-Door
Property of posthuman Added Jul 2012 Location: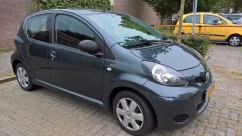 Retired. A good solid car. Few repairs, drove like a kart, took speed bumps (any!) at full speed. Noisy on the highway. Fits an adult GSD and 2 adult humans for a 2 week vacation. I'll miss it ;).
-
Mostly drove to work. 150KM round trip. ~130KM of that trip was highway (variable speeds from 100km/h, 120 km/h and 130km/h).
Also leisurely trips, but not as many as driving to work.
Basic Stats
€6.32 Avg Price/Gallons
€38.41 Avg Price/Fuel-up
€0.13 Avg Price/Mile
€38.41 Total Spent
---
Recent Fuel-ups
Log Book
| | # | Date | Miles | Gallons | MPG | Price | Note |
| --- | --- | --- | --- | --- | --- | --- | --- |
| | 141 | 4/15/16 | 356.17 | 7.611 | 46.80 | N/A | |
| | 140 | 3/2/16 | 323.80 | 7.032 | 46.04 | N/A | |
| | 139 | 2/25/16 | 278.37 | 5.920 | 47.02 | N/A | |
| | 138 | 2/8/16 | 297.89 | 6.850 | 43.49 | N/A | |
| | 137 | 1/21/16 | 297.82 | 6.382 | 46.66 | N/A | |
| | 136 | 1/17/16 | 306.34 | 6.834 | 44.82 | N/A | |
| | 135 | 1/11/16 | 326.78 | 7.236 | 45.16 | N/A | |
| | 134 | 12/15/15 | 337.53 | 7.822 | 43.15 | N/A | |
| | 133 | 12/9/15 | 320.38 | 6.882 | 46.56 | N/A | |
| | 132 | 12/2/15 | 280.74 | 6.301 | 44.56 | N/A | |