Corolla S, 1.8 5 speed manual.
2001 Toyota Corolla S
1.8L L4 GAS Standard 5 Speed
Property of Furloops Added Apr 2015 Location: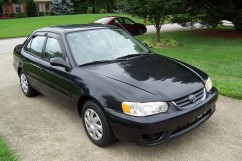 All stock little black corolla.
I drive very efficiently and am never in a hurry, short shifting as quickly as possible, never letting the RPMs go over 1600 when shifting, always in 5th gear by 40mph, always use 5W20 with a little Lucas stabilizer. tires are 185/65r14 (what came with it when purchased) 155/65r14 will go on it next (you can get 155s online, most tire shops don't carry them) will get better MPG with these. Tires are rated at 44psi when hot, keep them at 42-43psi cold at all times. never use the A/C. The car is most efficient at 55 to 65mph, but can easily get 410 miles on a tank going 70 to 80mph interstate. This is a great little reliable A to B car, no complaints, just always check oil regularly, all corolla's like to leak a little in the valve cover gasket.
Basic Stats
$2.14 Avg Price/Gallons
$21.18 Avg Price/Fuel-up
$0.052 Avg Price/Mile
$169.43 Total Spent
---
Recent Fuel-ups
Log Book
| | # | Date | Miles | Gallons | MPG | Price | City % | Note |
| --- | --- | --- | --- | --- | --- | --- | --- | --- |
| | 8 | 11/12/15 | 415.00 | 9.524 | 43.57 | 1.890 | 10% | |
| | 7 | 9/30/15 | 417.00 | 9.757 | 42.74 | 1.916 | 10% | |
| | 6 | 6/19/15 | 419.50 | 10.056 | 41.72 | 2.359 | 10% | |
| | 5 | 5/12/15 | 394.50 | 10.009 | 39.42 | 2.299 | 20% | |
| | 4 | 5/3/15 | 391.00 | 10.440 | 37.45 | 2.299 | 40% | |
| | 3 | 4/30/15 | 387.00 | 10.005 | 38.68 | 2.099 | 35% | |
| | 2 | 4/18/15 | 390.00 | 9.549 | 40.84 | 2.199 | 25% | |
| | 1 | 4/15/15 | 418.00 | 9.714 | 43.03 | 2.059 | 5% | |