Mister Tew
1991 Toyota MR2 Turbo
2.0L L4 GAS Standard 5 Speed
Property of BDC Added Sep 2012 Location: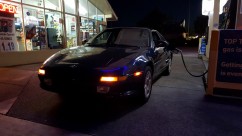 Powered midship specialty. Stock except for 93+ rear suspension, TRD sway bars, and polyurethane bushings. Stock wheels have 195/60/14F and 215/60/14R all-seasons for commuting. Race/summer wheels are 15x7 with 205/50/15 Kumho XS. Mileage is adjusted for actual tire circumference.
Rated at 18/24 in "updated" EPA rating (20/27 original rating). Always uses premium.
Went to a new home after 3 years of daily driving and autocross in Oct 2015.
Basic Stats
$3.74 Avg Price/Gallons
$38.48 Avg Price/Fuel-up
$0.136 Avg Price/Mile
$4,579.50 Total Spent
119
averaging 3 per month
Total Fuel-ups
---
Recent Fuel-ups
Log Book
| | # | Date | Miles | Gallons | MPG | Price | Note |
| --- | --- | --- | --- | --- | --- | --- | --- |
| | 119 | 10/12/15 | 101.40 | 2.954 | 34.33 | 2.879 | |
| | 118 | 9/10/15 | 209.20 | 12.049 | 25.49 | 2.739 | |
| | 117 | 8/23/15 | 261.30 | 6.412 | | 3.119 | |
| | | 7/15/15 | | | | 116.63 | |
| | 116 | 7/14/15 | 237.80 | 10.117 | 23.50 | 3.219 | |
| | | 4/17/15 | | | | 178.88 | |
| | | 4/8/15 | | | | | |
| | | 4/4/15 | | | | 90.00 | |
| | | 3/29/15 | | | | | |
| | 115 | 3/27/15 | 290.10 | 10.571 | 27.44 | 2.899 | |