TDI
2001 Volkswagen Golf GL
1.9L L4 DIESEL Manual 5 Speed Hatchback
Property of nervgs Added Apr 2009 Location: Los Angeles, CA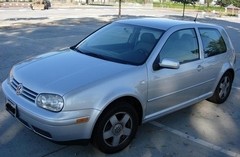 Base model (I don't trust VW electricals).
5 Speed.
Stage 3 Malone tune with EGR delete.
Howes Diesel Treat and Power Kleaner with each fill up.
Engine @ 269k as of 4/15.
Engine @ 246k as of 5/13.
Engine @ 180k as of 4/09.
Bosio Sprint 764.
Dieselgeek Race Pipe & EGR cooler delete.
VR6 clutch - G60 flywheel.
Bilstein HDs.
Shine street springs.
15" Avus wheels.
195/65/15 Yokohama Avid
1.8T brakes.
Basic Stats
$3.32 Avg Price/Gallons
$43.13 Avg Price/Fuel-up
$0.072 Avg Price/Mile
$10,136.50 Total Spent
235
averaging 2 per month
Total Fuel-ups
---
Recent Fuel-ups
Log Book
| | # | Date | Miles | Gallons | MPG | Price | City % | Note |
| --- | --- | --- | --- | --- | --- | --- | --- | --- |
| | 235 | 6/9/21 | 617.90 | 15.208 | 40.63 | 3.899 | 80% | |
| | 234 | 4/25/21 | 593.50 | 12.557 | 47.26 | 3.799 | | |
| | 233 | 4/25/21 | 256.10 | 6.157 | 41.60 | 3.930 | | |
| | 232 | 4/24/21 | 586.40 | 11.216 | 52.28 | 3.299 | 25% | |
| | 231 | 4/24/21 | 628.70 | 13.650 | 46.06 | 3.659 | | |
| | 230 | 4/23/21 | 696.60 | 14.665 | 47.50 | 3.819 | 10% | |
| | 229 | 4/17/21 | 469.40 | 9.747 | 48.16 | 3.899 | 50% | |
| | 228 | 3/26/21 | 287.10 | 5.803 | 49.47 | 3.799 | 5% | |
| | 227 | 3/25/21 | 604.50 | 13.328 | 45.36 | 3.819 | 60% | |
| | 226 | 2/28/21 | 156.00 | 3.632 | 42.95 | 3.759 | 100% | |