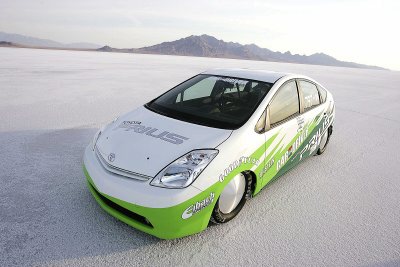 TORRANCE, Calif., Dec. 21 -- Toyota's Landspeed Prius gas-electric hybrid vehicle debuted at Bonneville National Speed Week, Aug. 14, 2004-17, 2004, in Bonneville, Utah as the first production hybrid to race across the Bonneville Salt Flats. The advanced technology of the popular hybrid mid-size sedan was taken to another level as Car and Driver editor Aaron Robinson drove the modified Prius on the three-mile short course, and set a hybrid record speed of 130.794 miles per hour. Other Landspeed Prius drivers included Prius executive chief engineer Shigeyuki Hori, and Fumiaki Kobayashi, group vice president technical and regulatory affairs, Toyota Motor North America, Inc. The Landspeed Prius' historical run also paved the way for a hybrid class to run at Bonneville.
An engineering group from Toyota and Toyota Motorsports worked on the Prius for over two months to prepare the vehicle for record-setting speed and extreme conditions. Bonneville veteran Jim Leininger, a Toyota field product engineer, served as crew chief, while Dr. Hori kept a watchful eye on the project.
The Landspeed Prius ran a stock "Hybrid Synergy Drive" powertrain, which integrates a large electric motor with a 1.5-liter gasoline engine. The transmission final drive gear ratio for the gas engine was modified from the stock 4.23:1 to 3.2, while the inverter voltage was increased to 550 volts from 500 volts. The engine redline was also changed for optimum performance.
A transmission cooling system was added to the front passenger area to decrease the temperature of the inverter and electric motors and maximize efficiency. Regular ice was constantly added to the system to prevent overheating. Ambient temperature on the salt flats was nearly 100 degrees with nearly 100 degrees humidity.
Other modifications included the removal of the interior, the addition of a roll cage and lowering the suspension five inches for improved aerodynamics. The Landspeed Prius incorporates custom Bilstein shocks and Eibach springs. The inner fender wells were also altered to accommodate the lowered ride height.
The Landspeed Prius is equipped with unique 26-inch front and 25-inch rear Goodyear Eagle Landspeed Record tires.
To prepare for Bonneville's race environment the Landspeed Prius had a removable front tow bar and rear pushbar installed to assist the vehicle to the track.
Toyota will display the Landspeed Prius at the 2005 North American International Auto Show in Detroit.
LANDSPEED PRIUS SPECIFICATIONS
ENGINE
* Gasoline Engine 1.5-liter, 4-cylinder, twin-cam, DOHC 16-valve
EFI with VVT-i, aluminum-alloy block and head
* Torque 97 lb.-ft. @ 4,200 rpm
* Horsepower 96 hp @ 5,800 rpm
ELECTRIC MOTOR/GENERATOR/POWER STORAGE
* Motor Type Permanent Magnet Synchronous Motor
* Electric Motor Power Output 50kW/1,2000 - 1,540 rpm
* Torque 295 lb.-ft. @ 1-1,200 rpm
* Battery type Nickel-metal hydride
* System voltage 550 volts maximum
SUSPENSION
* Front Independent MacPherson strut suspension with
stabilizer bar Eibach Racing coil springs,
Bilstein shock absorbers
* Rear Torsion Beam with stabilizer bar, Eibach
Racing coil springs, Bilstein shock absorbers
* Tires 25 and 26-inch Goodyear Eagle Landspeed Record
tires
GRAPHICS
* Molly Designs
PREPARATION
* Motorsports Technical Center, Inc.
-------------------------------------------------------------------------------
http://www.theautochannel.com/news/2...21/308572.html