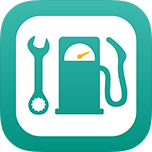 Gas Cubby - Documentation & Support
Details of Gas Cubby 3 Free Launch:
Gas Cubby 3 by Fuelly Free is now available. Please read the below details to ensure a smooth transition to Gas Cubby 3 Free.
We advise you to take a backup of your Gas Cubby 3 data using the the Gas Cubby sync server. (Note this email address does NOT create a fuelly.com account)
To make a backup, follow these steps.


Click the Gear Icon in the lower left.
Click Sync Setup/Login
Enter your email address and press Send, you will get a pop up confirmation and you are done

Sign up for a Fuelly account at www.fuelly.com. Note that a fuelly.com account isn't automatically created when you backup your data. Remember your user ID and password.
If you don't want to upgrade to Gas Cubby v3, then make sure to turn off auto update in your iOS settings.
You may upgrade to Gas Cubby 3, but not sync to Fuelly. If you do not want to sync to Fuelly, select the "Skip Sync" option. If you choose this option, you are limited to only one device, your data may be lost if something happens to your phone.
FAQ:
Do I have to upgrade to version 3?
No you don't have to upgrade to version 3. You can turn off auto updating in iOS's settings. Apple's support site shows you how to do this: https://support.apple.com/en-us/HT202180
Will Gas Cubby 2.7 Free be supported?
Once Gas Cubby 3 Free is released, Gas Cubby 2.7 will not be supported. You can continue to use it as you wish.
Can I export my data?
Yes - follow these steps:
Go to the Search field
Click Export in the upper left
Enter the email address you wish to send the file to and send
I upgraded to version 3, can I go back?
No. Once you're on version 3, you can't go back.
What does version 3 do that version 2.7 doesn't do?
- Version 3 syncs to Fuelly.com, this will prevent the loss of data should you choose to sync.
- The sync also allows you to access the data across multiple devices, just download Gas Cubby v3 to that device and login.
What happens if I have issues during the data migration?

Don't delete the app. If you delete the app, then it limits our ability to help you.
Look at the upgrade documentation at http://docs.fuelly.com/guide-to-upgrading-for-free-users
Get community assistance at http://fuelly.com/forums/f41
Contact support either using the in app feedback or by emailing support@fuelly.com