To access Export, first enter Search mode, replacing the Add Service and Add Fill Up buttons with the Export button.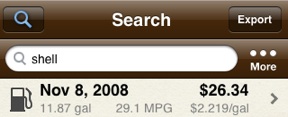 To export all records, ensure the vehicle row is set to All Vehicles and the Gas/Service filter is set to All. To export a particular set of records, search and/or filter then tap Export; only records viewable in the results are included.



Exports are sent from Gas Cubby using the iPhone's Mail app, which means:
Exports come from the default email account set up on the iPhone in the Settings app under "Mail, Contacts, Calendars."
Formatting capabilities found in Mail are available.
Exports may be saved to Drafts of the Mail app and later sent from there. To do so, enter an email address, tap Cancel and then tap Save in the confirmation window that appears.
Exports may appear in the Sent folder of the Mail app and online in your email account.
Typing a name or address actively predicts and narrows the list.
Cc, Bcc, Subject and Message Body fields are available. Set To/Cc visibility in the Settings app under Mail, Contacts, Calendars.