Blue K12RS
2007 BMW K1200R Sport
Property of DuncanS Added Dec 2016 Location: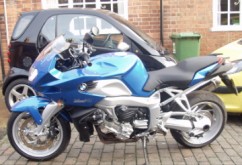 Vehicle now sold.
Standard motorcycle with OEM sport options
Fast and good handling, but still somehow too boring to keep. I only had it for 10 months before gladly trading it in at a massive loss - but it was worth getting rid of.
Basic Stats
£0.00 Avg Price/Gallons
£0.00 Avg Price/Fuel-up
£0.00 Avg Price/Mile
£0.00 Total Spent
---
Recent Fuel-ups
Log Book
| | # | Date | Miles | Gallons | MPG | Price | City % | Note |
| --- | --- | --- | --- | --- | --- | --- | --- | --- |
| | 56 | 12/14/07 | 156.00 | 4.406 | 35.40 | 0.000 | | |
| | 57 | 12/14/07 | 159.00 | 4.227 | 37.62 | 0.000 | | |
| | 55 | 11/1/07 | 176.00 | 4.642 | 37.92 | 0.000 | | |
| | 54 | 10/20/07 | 92.00 | 4.240 | 21.70 | 0.000 | | |
| | 53 | 10/12/07 | 157.00 | 2.996 | 52.41 | 0.000 | | |
| | 52 | 9/24/07 | 162.00 | 4.988 | 32.48 | 0.000 | | |
| | 51 | 9/17/07 | 175.00 | 4.927 | 35.52 | 0.000 | | |
| | 50 | 9/10/07 | 160.00 | 4.319 | 37.04 | 0.000 | | |
| | 48 | 9/8/07 | 171.00 | 4.755 | 35.96 | 0.000 | | |
| | 49 | 9/8/07 | 160.00 | 4.227 | 37.85 | 0.000 | | |