Single Cylinder Thumper
2013 Honda CBR250R
Property of Arrethul Added Jul 2014 Location: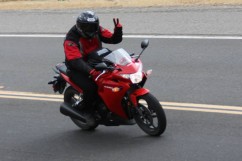 Fully stock bike and I was the first owner. 30,000 miles and only performed the 600 mile maintenance and kept the oil clean. Did 1 other valve check @ 25k. Last one I'll ever do. Only chain, tires, air filter, and brakes changed.
No engine mods and fully stock.
Basic Stats
$3.92 Avg Price/Gallons
$9.21 Avg Price/Fuel-up
$0.063 Avg Price/Mile
$221.02 Total Spent
---
Recent Fuel-ups
Log Book
| | # | Date | Miles | Gallons | MPG | Price | Note |
| --- | --- | --- | --- | --- | --- | --- | --- |
| | 25 | 3/18/15 | 125.00 | 2.484 | 50.32 | 3.259 | |
| | 24 | 3/12/15 | 130.00 | 2.622 | 49.58 | N/A | |
| | 23 | 9/7/14 | 155.00 | 2.813 | 55.10 | 3.859 | |
| | 22 | 9/2/14 | 165.00 | 2.701 | 61.09 | 3.819 | |
| | 21 | 8/31/14 | 65.00 | 1.059 | 61.38 | 3.859 | |
| | 20 | 8/28/14 | 165.00 | 2.617 | 63.05 | 3.899 | |
| | 19 | 8/27/14 | 175.00 | 2.883 | 60.70 | 3.899 | |
| | 18 | 8/25/14 | 165.00 | 2.918 | 56.55 | 3.898 | |
| | 17 | 8/18/14 | 22.00 | 0.293 | 75.08 | 3.919 | |
| | 16 | 8/18/14 | 165.00 | 2.748 | 60.04 | 3.859 | |