SKO929RR
2001 Honda CBR929
Property of sko110569 Added Mar 2012 Location: Wheaton, IL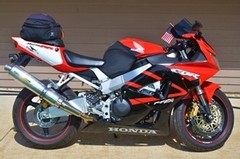 929cc's of Pure Riding Pleasure!!!
Bought stock from second owner 3/22/12 with 6350 miles.
Tank filled immediately and first fuel-up entered.
MY MODS: K&N Air Filter, Two Brothers Racing stainless flange-on pipe, D.I.D. gold chain, Michelin Pilot Power 2CT's at 8K, dark racing double bubble windshield, black billet mirror extenders, Spider Red Peak Motorcycle Grips, HRC brake reservoir sock, dark headlight cover, Carbon fiber Rear Fender, Ducati rear mini-signals, XSB Fan Override Switch, T-Rex slider pucks, reflective wheel tape, Red Tirestem LED's, gold billet adjustable brake/clutch levers, carbon fiber heel guards, LP carbon tank bra, Joe Rocket rear helmet bag and magnetic tank bag with Garmin GPS and 12V power. F/R Black Widow Race Stands.
FACT: The 929RR runs best on 87 octane fuel.
Basic Stats
$4.08 Avg Price/Gallons
$14.90 Avg Price/Fuel-up
$0.105 Avg Price/Mile
$268.14 Total Spent
---
Recent Fuel-ups
Log Book
| | # | Date | Miles | Gallons | MPG | Price | City % | Note |
| --- | --- | --- | --- | --- | --- | --- | --- | --- |
| | 18 | 9/8/13 | 124.00 | 3.000 | 41.33 | 3.859 | 75% | |
| | 17 | 9/8/13 | 154.00 | 3.779 | 40.75 | 3.859 | 75% | |
| | 16 | 8/19/13 | 161.00 | 3.800 | 42.37 | 3.599 | 65% | |
| | 15 | 7/17/13 | 150.00 | 3.750 | 40.00 | 4.159 | 30% | |
| | 14 | 6/30/13 | 155.00 | 3.790 | 40.90 | 3.799 | 65% | |
| | 13 | 5/14/13 | 134.00 | 4.000 | 33.50 | 4.119 | 85% | |
| | 12 | 12/3/12 | 13.00 | 0.320 | 40.62 | 3.399 | 50% | |
| | 11 | 9/15/12 | 157.00 | 3.887 | 40.39 | 4.169 | 50% | |
| | 10 | 8/31/12 | 152.00 | 3.785 | 40.16 | 4.259 | 85% | |
| | 9 | 8/15/12 | 157.00 | 3.901 | 40.25 | 4.199 | 80% | |