The Knight Saber
2007 Honda VFR800 Interceptor
Property of revengel Added Jun 2010 Location: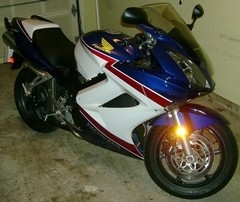 2007 VFR 800S7 in the 25th anniversary color scheme. Bought brand new in 2010 with zero miles. First checkup was done at 316 miles.
I commutes from the 'burbs to/from Washington, DC mixed with pleasure riding, until I was T-Boned less than two months of ownership by a driver who failed to yeild the right of way while making a left hand turn.
ATGATT.
Basic Stats
$3.36 Avg Price/Gallons
$13.40 Avg Price/Fuel-up
$0.084 Avg Price/Mile
$308.21 Total Spent
23
averaging 15 per month
Total Fuel-ups
---
Recent Fuel-ups
Log Book
| | # | Date | Miles | Gallons | MPG | Price | City % | Note |
| --- | --- | --- | --- | --- | --- | --- | --- | --- |
| | | 8/19/10 | | | | | | |
| | 23 | 7/19/10 | 202.80 | 4.670 | 43.43 | 2.799 | | |
| | 22 | 7/17/10 | 177.00 | 4.173 | 42.42 | 2.599 | | |
| | 21 | 7/14/10 | 176.40 | 4.430 | 39.82 | 2.799 | | |
| | | 7/13/10 | | | | | | |
| | 20 | 7/11/10 | 147.80 | 3.804 | 38.85 | 2.790 | | |
| | 19 | 7/9/10 | 202.00 | 4.760 | 42.44 | 2.790 | | |
| | 18 | 7/7/10 | 180.00 | 3.887 | 46.31 | 2.790 | | |
| | 17 | 7/5/10 | 167.70 | 3.887 | 43.14 | 2.800 | | |
| | 16 | 7/1/10 | 200.00 | 5.000 | 40.00 | 2.799 | | |