Hathor
2012 Honda XR650L
Property of marlonza Added May 2012 Location: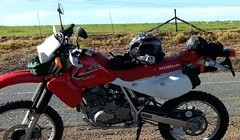 The XR650L is a street legal Honda dual-sport motorcycle, and is part of the Honda XR series. It has been produced virtually unchanged since 1993. In 2003 three unsupported XRLs, modified with 40-litre tanks rode across the Sahara to the famed Lost Tree in the Ténéré Desert of Niger as part of the 'Desert Riders' project.
The engine is an air-cooled 644 cc SOHC dry-sump single-cylinder 4-stroke.
Basic Stats
R44.37 Avg Price/Gallons
R58.12 Avg Price/Fuel-up
R0.97 Avg Price/Mile
R2,382.85 Total Spent
---
Recent Fuel-ups
Log Book
| | # | Date | Miles | Gallons | MPG | Price | Note |
| --- | --- | --- | --- | --- | --- | --- | --- |
| | 41 | 4/16/13 | 60.89 | 1.432 | 42.52 | 48.567 | |
| | 40 | 4/9/13 | 69.59 | 1.670 | 41.67 | 48.567 | |
| | 39 | 3/25/13 | 52.82 | 1.143 | 46.21 | 48.188 | |
| | 38 | 3/14/13 | 32.93 | 0.795 | 41.42 | 48.188 | |
| | 37 | 3/6/13 | 62.14 | 1.059 | 58.68 | 48.188 | |
| | 36 | 3/3/13 | 48.47 | 0.811 | 59.76 | 45.728 | |
| | 35 | 3/3/13 | 69.59 | 1.471 | 47.31 | 45.728 | |
| | 34 | 3/2/13 | 64.62 | 1.171 | 55.19 | 45.728 | |
| | 33 | 3/1/13 | 72.70 | 1.820 | 39.94 | 45.122 | |
| | 32 | 2/20/13 | 26.72 | 0.709 | 37.68 | 45.122 | |