Cowabunga'ed Time Machine
1991 Suzuki Across
Property of amazing Added Sep 2012 Location: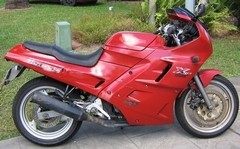 1991 suzuki across, gsx250fm , bright red, stebel air horn with a whopping 139 dB, recently fully serviced by me (August 2012) and adjusted the needles so they are one notch leaner then stock and replaced all plastic slides as well in carby.
Paint is cracked as well, probably from the previous owners breaking the sound barrier with this speed demon machine. The flux capacitor under the seat helped with that too i suspect.
The cracked paint helps create a vacuum in-front of the bike and it quite literally gets sucked in to time/space with very minimal effort.
man you really have to hold on tight to the handlebars on this machine or it will go so fast it will fly out from underneath you and theres no way you will survive if this happens to you.
And the helium in the tires to make the bike lighter cos its such a heavy beast i have no doubt helped this rocket-ship break the sound barrier, there's no way it would have made it with out the helium in them tires.
This motorcycle traded in 25/1/2013 for brand new Kawasaki Ninja 300 SE ABS
Basic Stats
AU$5.47 Avg Price/Gallons
AU$14.46 Avg Price/Fuel-up
AU$0.13 Avg Price/Mile
AU$130.10 Total Spent
---
Recent Fuel-ups
Log Book
| | # | Date | Miles | Gallons | MPG | Price | City % | Note |
| --- | --- | --- | --- | --- | --- | --- | --- | --- |
| | 9 | 1/4/13 | 106.90 | 2.523 | 43.34 | 5.371 | 100% | |
| | 8 | 12/16/12 | 124.30 | 2.811 | | 5.447 | 100% | |
| | 7 | 12/2/12 | 124.30 | 2.716 | 45.76 | 5.371 | 100% | |
| | 6 | 11/21/12 | 119.90 | 2.673 | 44.86 | 5.447 | 100% | |
| | 5 | 11/8/12 | 111.80 | 2.610 | 42.85 | 5.262 | 100% | |
| | 4 | 10/25/12 | 112.50 | 2.967 | 37.91 | 5.629 | 100% | |
| | 3 | 10/11/12 | 108.10 | 2.893 | 37.38 | 5.561 | 100% | |
| | 2 | 9/28/12 | 91.70 | 2.068 | 44.31 | 5.636 | 100% | |
| | 1 | 9/19/12 | 107.20 | 2.536 | 42.26 | 5.485 | 100% | |