Mao Tao
2012 TaoTao ATM-50
Property of ProDigit Added Oct 2012 Location: Miami, FL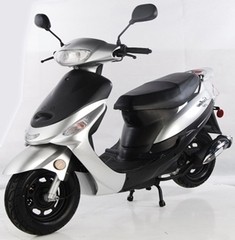 Silver-black, stock 50cc Chinese GY6 engine.
Rear trunk case removed for improved windflow.
Optimized $50 windshield installed (made more aerodynamic).
Spark plug gap adjusted (lowered by 1/3rd)
BP Premium 91 high octane gasoline used most of the time.
48MPH top speed, 52MPH with a little wind in the back; 10W40-15W40 engine oil. (@~3500km changed to a 50/50 mix of 10W30 and 15W40 = 12,5W35)
Retired after 5.5k km, electrical wiring issues, valve adjustment, headlight issue, horn failure, blinker failure.
Basic Stats
$3.96 Avg Price/Gallons
$4.26 Avg Price/Fuel-up
$0.039 Avg Price/Mile
$132.01 Total Spent
---
Recent Fuel-ups
Log Book
| | # | Date | Miles | Gallons | MPG | Price | Note |
| --- | --- | --- | --- | --- | --- | --- | --- |
| | 31 | 10/26/13 | 114.71 | 0.799 | | 3.799 | |
| | 30 | 8/21/13 | 110.73 | 1.140 | 97.13 | 3.999 | |
| | 29 | 7/31/13 | 115.08 | 1.182 | 97.36 | 3.999 | |
| | 28 | 7/25/13 | 114.21 | 1.000 | 114.21 | 3.999 | |
| | 27 | 7/21/13 | 149.44 | 1.220 | 122.49 | 3.999 | |
| | 26 | 6/9/13 | 48.72 | 0.500 | 97.43 | 3.899 | |
| | 25 | 5/22/13 | 122.97 | 1.216 | 101.13 | 3.899 | |
| | 24 | 5/16/13 | 135.27 | 1.282 | 105.52 | 3.899 | |
| | 23 | 5/3/13 | 116.63 | 1.218 | 95.76 | 3.899 | |
| | 22 | 4/20/13 | 114.21 | 1.130 | 101.07 | 3.990 | |