Captain Malcolm (Mal) Reynolds
2012 Triumph Tiger T800
Property of NotHisRealName Added Mar 2014 Location: Scenic Rim, Queensland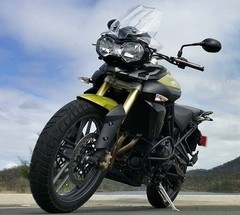 2012 Triumph Tiger 800 ABS
Running Panniers, Engine Dresser Bars, and Arrow Exhaust.
Purchased brand new in March 2014.
At times, feeling refined, it's clear this bike is capable of action, and has already had me misbehaving.
With this in mind, naming the bike after the charismatic scallywag from Firefly was pretty obvious.
Bike retired as it just wasn't for me.
Basic Stats
AU$5.83 Avg Price/Gallons
AU$17.07 Avg Price/Fuel-up
AU$0.14 Avg Price/Mile
AU$802.21 Total Spent
---
Recent Fuel-ups
Log Book
| | # | Date | Miles | Gallons | MPG | Price | Note |
| --- | --- | --- | --- | --- | --- | --- | --- |
| | 47 | 6/12/15 | 138.57 | 3.516 | 39.41 | 6.000 | |
| | 46 | 6/1/15 | 133.59 | 3.466 | 38.54 | 5.409 | |
| | 45 | 5/16/15 | 141.05 | 3.392 | 41.58 | 5.864 | |
| | 44 | 5/7/15 | 171.50 | 4.005 | 42.82 | 5.432 | |
| | 43 | 4/24/15 | 116.82 | 3.170 | 36.85 | 5.712 | |
| | 42 | 4/8/15 | 142.92 | 3.561 | 40.13 | 5.546 | |
| | 41 | 3/22/15 | 149.13 | 3.360 | 44.38 | 5.712 | |
| | 40 | 3/6/15 | 68.35 | 3.397 | 42.24 | 5.144 | |
| | 39 | 3/2/15 | 151.61 | 1.810 | | 5.523 | |
| | 38 | 2/21/15 | 145.40 | 3.400 | 42.76 | 4.955 | |