Summer Screamer
1993 Acura Integra GS-R
1.7L L4 GAS Standard 5 Speed Hatchback
Property of mpelley92 Added Jul 2014 Location: Edmonton, AB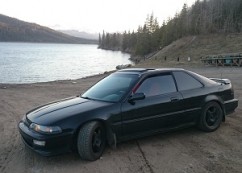 Sold the car on August 26. Most fun I have ever had up to now!
Bought this car on Sunday, July 6, 2014. Odometer: 250,200 KM.
Keep in mind that all of my mileage calculations may be a little high due to my driving style. This car is way too much fun to granny around, so I tend to be a little heavy on the foot.
Basic Stats
CA$4.56 Avg Price/Gallons
CA$36.49 Avg Price/Fuel-up
CA$0.17 Avg Price/Mile
CA$2,408.49 Total Spent
---
Recent Fuel-ups
Log Book
| | # | Date | Miles | Gallons | MPG | Price | City % | Note |
| --- | --- | --- | --- | --- | --- | --- | --- | --- |
| | 66 | 8/10/17 | 201.76 | 7.728 | 26.11 | 3.857 | 35% | |
| | 65 | 6/4/17 | 195.92 | 7.251 | 27.02 | 4.444 | 30% | |
| | 64 | 4/6/17 | 220.46 | 7.883 | 27.97 | 4.690 | 50% | |
| | 63 | 10/22/16 | 238.23 | 9.092 | 26.20 | 4.198 | 40% | |
| | 62 | 9/11/16 | 202.01 | 7.351 | 27.48 | 4.009 | 40% | |
| | 61 | 9/5/16 | 157.39 | 5.677 | 27.72 | 4.009 | 50% | |
| | 60 | 9/4/16 | 235.75 | 9.376 | 25.14 | 4.236 | 35% | |
| | 59 | 8/6/16 | 270.11 | 9.722 | 27.78 | 3.876 | 40% | |
| | 58 | 7/27/16 | 263.59 | 9.596 | 27.47 | 3.933 | 70% | |
| | 57 | 7/20/16 | 236.31 | 8.019 | 29.47 | 3.971 | 30% | |