Secret Purple
2000 Saturn SL2
GAS L4
Property of SpecialForces Added Dec 2010 Location: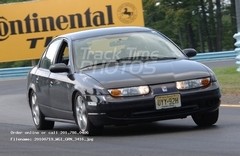 Daily driven car with 142,000 miles.
August 12, 2011 Secret Purple drove its last road before rolling on US-28 in North Carolina. Frame damage would cause it to be junked. I only injured my left hand in the wreck. Many memories won't be forgotten for the car that met me in high school and stayed with me until after college. It had 145,811 miles when the wheels finally stopped rolling.
Basic Stats
$3.84 Avg Price/Gallons
$28.79 Avg Price/Fuel-up
$0.120 Avg Price/Mile
$1,842.28 Total Spent
---
Recent Fuel-ups
Log Book
| | # | Date | Miles | Gallons | MPG | Price | City % | Note |
| --- | --- | --- | --- | --- | --- | --- | --- | --- |
| | 64 | 8/11/11 | 165.00 | 4.274 | 38.61 | 3.659 | | |
| | 63 | 8/11/11 | 256.20 | 6.684 | 38.33 | 3.699 | | |
| | 62 | 8/11/11 | 351.70 | 9.669 | 36.37 | 4.039 | | |
| | 61 | 8/10/11 | 296.60 | 8.033 | 36.92 | 4.099 | 15% | |
| | 60 | 8/8/11 | 164.10 | 5.051 | 32.49 | 4.039 | 25% | |
| | 59 | 8/6/11 | 206.90 | 7.452 | 27.76 | 4.030 | 35% | |
| | 58 | 7/30/11 | 240.40 | 8.992 | 26.74 | 3.910 | 35% | |
| | 57 | 7/20/11 | 252.10 | 8.098 | 31.13 | 4.030 | 10% | |
| | 56 | 7/18/11 | 123.60 | 3.764 | 32.84 | 4.090 | 10% | |
| | 55 | 7/17/11 | 135.70 | 3.744 | 36.24 | 3.970 | 10% | |