Blue Beast
2006 Toyota Tacoma
GAS V6
Property of 06TRDsporty Added Dec 2010 Location: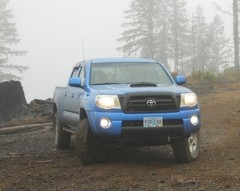 2006 Toyota Tacoma Double Cab. TRD Sport package.
K&N intake system, Port and Polish of the throttle body
Synthetic Oil changed every 4500 miles
On my wish list...
Custom exhaust system including headers and 2.5" piping.
Performance chip, still shopping around.
Scanguage for more real-time fuel usage.
Basic Stats
$2.91 Avg Price/Gallons
$39.62 Avg Price/Fuel-up
$0.178 Avg Price/Mile
$39.62 Total Spent
---
Log Book
| | # | Date | Miles | Gallons | MPG | Price | City % | Note |
| --- | --- | --- | --- | --- | --- | --- | --- | --- |
| | 1 | 12/4/10 | 222.50 | 13.614 | 16.34 | 2.910 | | |