4sub
2009 Subaru Outback 2.5i
2.5L H4 GAS Manual 5 Speed Wagon
Property of cka1799 Added Dec 2013 Location: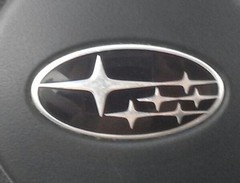 130,000 mile base model
not sure why I got 39 mpg. It was a short trip between Blacksburg and Roanoke VA. I've had a few trips around 35mpg also. My assumption is clean burning gas and warm weather. I do think the 39mpg would have went down if I had driven further.
Basic Stats
$2.64 Avg Price/Gallons
$31.75 Avg Price/Fuel-up
$0.093 Avg Price/Mile
$8,920.55 Total Spent
281
averaging 3 per month
Total Fuel-ups
---
Recent Fuel-ups
Log Book
| | # | Date | Miles | Gallons | MPG | Price | City % | Note |
| --- | --- | --- | --- | --- | --- | --- | --- | --- |
| | 281 | 6/4/22 | 387.40 | 14.017 | 27.64 | 4.499 | 5% | |
| | 280 | 6/4/22 | 354.00 | 12.687 | 27.90 | 5.499 | 5% | |
| | 279 | 6/2/22 | 343.80 | 13.903 | 24.73 | 4.259 | 5% | |
| | 278 | 6/2/22 | 354.60 | 13.170 | 26.92 | 4.399 | 5% | |
| | 277 | 6/2/22 | 339.70 | 11.488 | 29.57 | 4.249 | 5% | |
| | 276 | 6/1/22 | 297.10 | 10.031 | 29.62 | 4.249 | 5% | |
| | 275 | 5/31/22 | 355.60 | 13.788 | 25.79 | 4.999 | 30% | |
| | 274 | 5/28/22 | 313.20 | 10.874 | 28.80 | 5.898 | 30% | |
| | 273 | 5/22/22 | 192.30 | 12.987 | 32.28 | 4.999 | 5% | |
| | 272 | 5/22/22 | 379.80 | 4.739 | | 5.800 | 5% | |