The Devil's Car
2004 Suzuki Zen LXi
GAS Standard 5 Front Wheel Drive Hatchback
Property of motusid Added Apr 2013 Location: Mumbai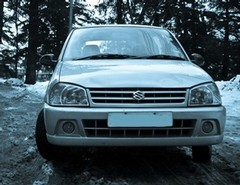 2004 Maruti Suzuki Zen Lxi
5 door hatchback
993cc, 4 cylinder, SOHC, MPFI, transversely mounted engine.
60.9 PS (45 kW/60 HP), 78.48 Nm (57.88 lb-ft)
5-speed manual transmission, drives the front wheels.
180mm discs at the front
Rack and pinion hydraulic steering
Bridgestone Turanza R145/80 R12 tyres
Very minimal equipment: Sony Explode CD/USB/Aux-in system, with four co-axial speakers, manual A/C, Fog lamps front and back.
Has gone upto a top speed of 150 km/h (93.2 mph)
Sold it, upgraded to Brown Beauty
Basic Stats
Rs252.99 Avg Price/Gallons
Rs1,750.52 Avg Price/Fuel-up
Rs8.29 Avg Price/Mile
Rs323,845.42 Total Spent
185
averaging 2 per month
Total Fuel-ups
---
Recent Fuel-ups
Log Book
| | # | Date | Miles | Gallons | MPG | Price | Note |
| --- | --- | --- | --- | --- | --- | --- | --- |
| | 185 | 4/26/18 | 175.85 | 7.526 | 23.36 | 317.596 | |
| | 184 | 11/14/17 | 185.79 | 7.909 | 23.49 | 290.795 | |
| | 183 | 6/8/17 | 219.97 | 8.158 | 26.96 | 298.669 | |
| | 182 | 4/30/17 | 215.62 | 8.660 | 24.90 | 295.451 | |
| | 181 | 4/5/17 | 210.64 | 8.097 | 26.02 | 277.281 | |
| | 180 | 3/27/17 | 231.77 | 8.242 | 28.12 | 293.180 | |
| | 179 | 2/15/17 | 223.69 | 8.234 | 27.17 | 293.180 | |
| | 178 | 1/23/17 | 262.22 | 8.253 | 31.77 | 293.180 | |
| | 177 | 1/4/17 | 208.78 | 8.049 | 25.94 | 286.972 | |
| | 176 | 12/21/16 | 275.89 | 8.586 | 32.13 | 280.802 | |