Death Rocket Supercharged
1985 Toyota MR2
Property of BDC Added Dec 2008 Location: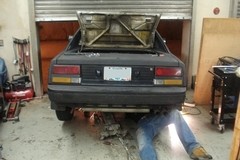 This is my college beater that I drove for 80,000 miles, starting in 2005. I replaced the stock motor with a supercharged 1.6l small-port 4A-GZE in 2008 (miles with the old motor are recorded as a different vehicle).
After fixing it up throughout 2010, 2011, and 2012, the Death Rocket went to a new home in March 2012. At over 380,000 miles, it still has a lot of life left and hopefully will serve its new owner well.
Basic Stats
$3.40 Avg Price/Gallons
$26.18 Avg Price/Fuel-up
$0.122 Avg Price/Mile
$916.12 Total Spent
---
Recent Fuel-ups
Log Book
| | # | Date | Miles | Gallons | MPG | Price | Note |
| --- | --- | --- | --- | --- | --- | --- | --- |
| | 39 | 3/26/12 | 217.10 | 8.139 | 26.67 | 4.239 | |
| | 38 | 3/16/12 | 219.60 | 7.975 | 27.54 | 3.599 | |
| | | 3/10/12 | | | | | |
| | 37 | 3/8/12 | 215.20 | 8.695 | 24.75 | 3.939 | |
| | 36 | 2/28/12 | 222.40 | 9.299 | 23.92 | 3.979 | |
| | 35 | 2/6/12 | 324.00 | 10.654 | 30.41 | 3.499 | |
| | | 2/4/12 | | | | | |
| | | 1/23/12 | | | | | |
| | 34 | 7/1/11 | 302.40 | 8.377 | 36.10 | 4.059 | |
| | 33 | 6/17/11 | 264.50 | 7.453 | 35.49 | 3.999 | |