Here's my first review because I felt prompted to give my old reliable Eagle a review after 14 years of reliability, performance, and comfort.
So you're considering a sedan. Four doors. It's okay, say it. You need them. But it's okay to want some other things too. Like a sports sedan that you can really get into driving -- a way to zig where others zag. Because enjoying performance in a car isn't something that you outgrow. And getting power with a little styling and comfort added to the mix shouldn't be too much to ask for. To look at Vision is to see performance. Sporty cab-forward design and aerodynamic styling shows a car that's ready to eat up some highway. Once inside, technology that defines convenience and comfort.
Pros
+ Spacious interior
+ Ample "goodies" (loaded features)
+ Lots of power
+ Smooth as butter handling
Cons
- FE (though not particularly bad for a 'large sedan')
- Clearcoat paint is shot on almost every Vision I've ever seen
EPA Estimates
City - 16
Hwy - 24
Combined - 19
Stats
- SOHC 3.5L 24-valve V6 Engine
- 214 HP
- 4 speed automatic transmission
- Curb weight = 3371 lbs
- Length = 201.6 in
- Width = 74.4 in
- Height = 53.6 in
Brief Introduction
The Eagle Vision was one of three similar "cab forward" designed cars released under Chrysler. The three included the Dodge Intrepid, Chrysler Concorde, and the Eagle Vision. The Vision and Concorde are virtually identical in appearance with the exception of the rear end tail lights. The Intrepid was a cheaper car with a similar feel.
Interior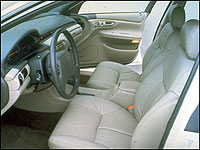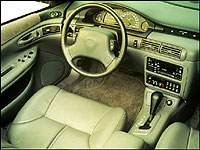 Standing at 6'1", I'm tall enough to feel the limiations in size produced by a subcompact car like the Geo Metro. To say that the Vision seats me comfortably is an understatement. Front seats are equipped with 3-way adjustable power seats with lumbar support - a quintessential example of spacious seating. Equally spacious is the rear, which seats 2 with ease, and 3 if necesary.
Instruments include a standard tach, along with climate control, CD, overhead console with instantaneous MPG, temperature (celsius and farenheit), trip MPG, garage door opener, sunglasses holder, and a spacious center console. Fog lamps and traction control are also available. A few years later, the Vision was among the first to sport the autostick transmission.
The Drive
As a young driver, I have not been afforded the opportunity to drive some of the fancier cars on the market. My parents recently purchased a Volvo S80 turbo which handles like a dream. Compare that to the Vision. Volvo excellence versus the domesticated Chrysler. Clearly, Volvo is the right choice. Right? Well, yes and a good deal of no.
Considered a detraction by some, to me the acceleration of the car is perhaps its greatest feature. The gas pedal is "overly sensitive" as almost all who have driven my car have remarked. In fact it was listed as a con on an internet auto guide I was once looking at. Unexperienced drivers beware, only a slight amount of foot pressure is needed to get the car rolling. Once moving, the car has the acceleration to keep up with nearly any car on the road. The 214 HP 3.5L engine is vociferious, and on the rare occasion that I needed all of that power, it provided more punch than I could have asked for. In fact, that is where the Vision trumps the S80. For a V6 turbo, not even the S80 delivered the instantaneous power and acceleration that the Vision did. Back in the days before I became a GasSaver (and before $3.00 per gallon) I routinely raced snotty preps out of the school parking lot in their mid 90s BMW 3 series cars - and kept right along with them. Common sense of course prevailed and I usually allowed them to go on after keeping up side by side up to 80 MPH... in a 55 MPH zone!
When juxtaposing the handling between the Vision and the S80, it's a tossup. I suppose I am giving the Vision the benefit of the doubt, since it is currently not in the best of shape handling wise. 5 or 6 years ago before it came into my possession, my dad ran it over top of a set of train tracks on the top of a hill at 55 mph. Needless to say we tested the shocks out that day. It came through with flying colors however, but the front end was slightly messed up from the mid air flight. After that my mother further destroyed the sanctity of the car by running it over a monstrous curb which blew out the left front tire and caused irreversible damage to the front end alignment. Even after extensive repair, it still pulls towards the left side of the road. All that said, the Vision still produces a tremendous right with tight and precise steering that is only a small fraction below that of the S80.
All in all, I consider the Vision to be one of the best large cars available. Unlike some of the cars on the road today, it has all of the features, comfort and power at a moderate price (it was somewhere in the $25,000 range). Even 14 years later it still blends in seemlessly with newer cars. A paint restoration is in the works for my Vision, but needless to say, it's worth it. Even at 167,000 miles the engine still runs like it did years ago. With no mechanical faults to speak of.
Below are a couple of pictures that look exactly like my car. Before anyone even says it, I'm going to clear it up now - IT'S NOT PURPLE! It's black cherry pearl, tyvm